Three Ways to Show Support:
#1) Visit one of our events, have a good time and tell your friends to find/follow us as well.
#2) Mail in a cool letter of support (and possibly a donation) using the information below.
#3) Enjoy our progress pictured below and donate today
...via one of the yellow "Donate" buttons on this page.

Steady Progress:
Below you can keep up with our progress in graphic form. As we continue making strides with our generous sponsors, and hosting events around the area, we will keep you in the loop.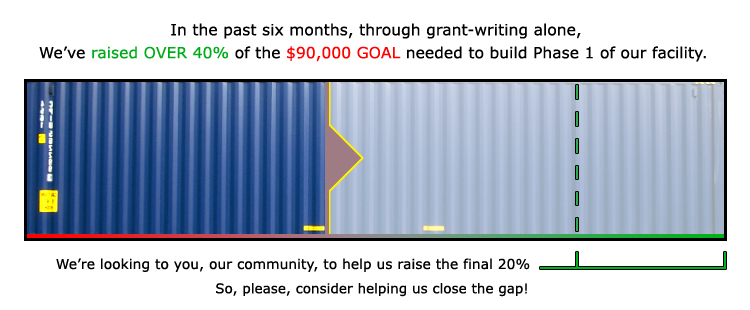 How does 20% sound?
With your help, we'd like to raise 20% of our goal through tax-deductable donations and community events/fundraisers. If this sounds good to you, why not make a small donation and help close the gap. Every little bit helps.

Plus, it's easy. Just click the yellow button below to make your on-line donate today.
(Please note, we need a current donation address if intended to be tax-deductible.)


Recognition in our space!
Our more substantial donors will be PERMANENTLY recognized on our walls!

Donation Swatches
+ Every $100 donor will have their name (or choice of name) engraved on a silver swatch and affixed throughout the space, recognizing them as a Community Supporter.
+ For $500, local businesses (or individuals) can have their name engraved on a gold swatch and affixed throughout the space, recognizing them as a Community Donor.

Donation Plaques
Our largest donors will be recognized on three Donation Plaques displayed at the entrance of the space. These donors will be honored in the following categories.
++ Gold Donors ~ for gifts $1,000 or more
++ Platinum Donors ~ for gifts of $5,000 or more
++ Distinguished Donors ~ for gifts of $15,000

Upon request, naming rights of our 1st education space or 1st gallery space are available with donations of $50,000 or more.

Beyond Online Donations
If you're more interested in making a donation via regular mail, please email us at EmailUs@parProjects.com, or send a letter to PAR-Projects, 4041 Hamilton Ave, 2nd floor, Cincinnati, OH 45223 ...and we'll be sure to relay the proper information back to you. Thanks again.


Also Worth Noting:
Though it gets heavy at times, we are still/currently in grant writing mode. We've been fairly lucky thus far, so we hope to continue receiving possitive feedback for our efforts. We're also in the midst of planning some major projects/adventures for 2013. So, please stay in touch with us ...especially if you're interested in upcoming sponsorship opportunities!
Thanks again.